---
      
---
•

Members: 
Need An Invoice?
Login and Click on "My Profile" underlined in red underneath the name badge.
From your profile page, click on the gray "My Profile" tab.
Select "Invoices", second from the bottom of the drop-down menu.
Not Receiving Our Emails? Many school districts have very strong SPAM filters in place and a lot of our emails, including invoices and reminder emails for seminars for which you may register, are blocked. Please inform your IT department of TASSP so they can add us to the approved senders. Also, make sure your member profile is up-to-date!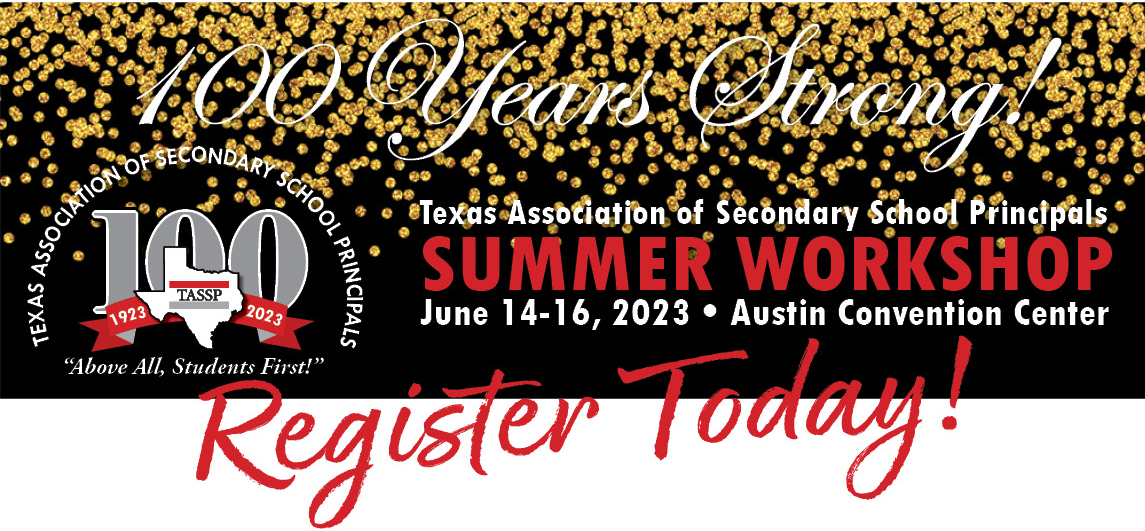 It's not too late to register! Don't miss the event of the year!!
Celebrating 100 Years Strong! Check this out:  

VIEW VIDEO

>
TASSP SUMMER WORKSHOP » June 14 - 16, 2023 | Austin Convention Center


TASSP is 100 years strong - come celebrate with us at the Summer Workshop! This is our biggest event of the year with training and sessions designed to provide

 innovative solutions to the ever-changing educational needs and personal interests of a diverse student population. Commit today. Bring a team from your district, your graduate class, region service center, and more to this highly-regarded TASSP Summer Workshop. Invest personally in your professional growth and life-long learning.

ED311 & TASSP present: 2023 Conference on Education Law for Principals | Join the folks at ED311 to get up to date on new laws and significant court cases. Gain insight from expert education law attorneys on current trends and areas of concern for school administrators. This event is designed for principals and other campus leaders, superintendents, school board members, school attorneys, and district administrators. This event is the Tuesday before the Summer Workshop (they also have an online option!) and registration is through ED311. Visit the ED311 site to REGISTER »
---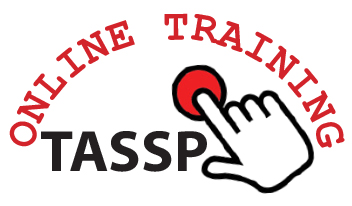 MONTHLY TRAINING! The EQ-uipped Leader: Accessing Emotional Intelligence (EQ) for Effective and Sustainable Leadership - A Professional Development Series of Online Training Modules (FREE for TASSP Members!) With Trainers Dr. Adam L. Sáenz & Dr. Jenny Severson | These modules will be offered as live online 45-minute sessions with our trainers. TASSP members will be able to view at no cost, while non-members will be able to purchase training access. Click Here to View Details and Register

STAAR Corner: An update about the redesign of the state's summative test. School campuses across Texas are preparing for the upcoming changes to the State of Texas Assessments of Academic Readiness (STAAR®) that will better align the test to high-quality classroom instruction. Beginning with the spring 2023 STAAR administration, new non-multiple-choice question types that teachers already use during effective instruction will be incorporated into the test. The new question types were developed with input from Texas teachers, students, and a wide range of educational stakeholders and assessment experts. TEA field-tested these new question types during 2022 to verify their ability to accurately and reliably measure students' understanding of the Texas Essential Knowledge and Skills (TEKS). 
Learn more about the STAAR redesign. Visit: https://tea.texas.gov/student-assessment/assessment-initiatives/hb-3906/staar-redesign

Write for the Texas Study! View the article submission guidelines »
Check out the latest JOBS POSTING BOARD
Keep up with the Daily Updates:  Texas Political Pulse | News Clips
TASSP Vision
To offer Texas principals and assistant principals a forum to explore the best practices in school administration with the ultimate goal of helping facilitate student learning. It is the intent of the organization that we honor our motto, "Above All, Students First," in all that we do.