TASSP VIRTUAL Summer Workshop: June 16-18, 2021
Get Ready to ANSWER THE CALL!
This professional development is open to and appropriate for all educators. The topics focus on leadership, instruction, mental health, social and emotional learning, and more. There is time for laughter, learning, and connecting with people from all over the Nation. Help us market this power-packed event by posting on your social media pages. All sessions will be LIVE on Zoom and you won't miss a thing! All registrants will have access to the recordings of all the sessions which will open on June 23, 2021 and close on August 1, 2021.
Together we learn to make a difference. Don't miss the learning. ANSWER THE CALL!

 

 

 

 

TASSP Summer Workshop Keynote & Distinguished Speakers
Don't miss the opportunity to spend three days with this inspiring group of educators! 

Registered? Get access to the Sched TASSP Summer Workshop site: CLICK HERE 
Once set, you can review the sessions and build your schedule. There is limited capacity in the breakout sessions. The general session "seating" is open.
• Registrants will be sent a link via email to log in to the workshop site. Those who test their login later than noon CT June 15, 2021 may experience delays accessing the workshop site on Wednesday, June 16, 2021.
• Registrants will need individual log-ins to access sessions, chats, business meetings, etc. Open your account today! 

KEYNOTE SPEAKERS:

Grand Opening: Wednesday, June 16, 2021 8:30a – 9:45a
Steve Gilliland – Joining us LIVE from North Carolina
Emerge!   |  Click Here for Trailer »
Steve is a longtime friend of TASSP, and he returns this year to open the Virtual Summer Workshop. His new presentation, EMERGE, is a motivational talk that inspires us to move from this unprecedented challenge we have faced with the ability to change for the better. Join Steve in this Grand Opening Session to the Virtual Summer Workshop.

 

General Session: Thursday, June 17, 2021 8:30a – 9:45a
Baruti Kafele – Joining us LIVE from Jersey City, New Jersey
Is My School Better BECAUSE I Lead It?
A self-reflected journey for school leaders challenging each to examine their own leadership identity, presence, impact, mission, purpose, vision, and value as the leader of their school. Participants will be engaged in a discussion on whether their leadership practices enable their learners to have optimal learning opportunities in barrier-free, culturally-responsive learning environments. It will also challenge participants to think critically about how they perceive their own leadership worth to their school communities compared to how their school communities might perceive their leadership, with a particular emphasis on whether their leadership practices ensure that equity abounds for all learners.

Closing Keynote: Friday, June 18, 2021 at 10:30a – 11:30a
Dr. Rick Rigsby – Joining us LIVE from Dallas, Texas
The Responsibility of Leaders in a Time of Uncertainty
With the unprecedented times we currently find ourselves in each day, Dr. Rigsby feels now, more than ever, the need to uplift, inspire and bring a message of HOPE to educators. His new message entitled, The Responsibility of Leaders in Times of Uncertainty, speaks to the hearts of all educators.

---

 

 
 

REGISTRATION FEES:

Member fee:
$279 through April 15
$299 April 16-June 4
$339 June 5-June 25

Non-member fee:
$479 through April 15
$499 April 16-June 4
$539 June 5-June 25

PAYMENT:

IF PAYING BY CHECK: at payment options select "invoice me". Be sure to send a copy of the invoice with your check to TASSP – 1833 South IH-35, Austin, TX 78741.
IF PAYING BY PURCHASE ORDER: at payment options select "invoice me". There is a place on the registration form to upload your PO or you can email a copy to Shannon Murdock at [email protected]
Payment must be received prior to the event. Acceptable forms of payment: Personal or District Check, Personal or District Credit Card, District Purchase Order, Cash.
CANCELLATION: Cancellation requests must be emailed to Shannon Murdock at [email protected] by end of business day on June 4th. There will be a $125.00 cancellation fee for each cancelled registration after June 4th.

 
 
Don't Forget to Also Register for the
2021 Conference on Education Law for Principals

Presented by ED311 and TASSP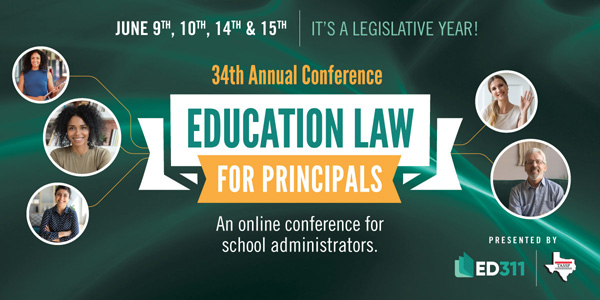 CLICK HERE » for Details and Registration through ED311
Stay Informed! Presentations on current legal issues of particular concern to:
school principals & other campus-level personnel; superintendents; 
school board members; school attorneys; district administrators
Build Your Network! Q&A sessions offer you the opportunity to interact with all of our speakers.
You'll also be able to connect with 2000+ peers from all across the state of Texas.
Accreditation! Opportunity to gain 7 hours of Continuing Professional Education (CPE).
Invest in your own personal growth & lifelong learning.
REGISTER TODAY!
---
Future Summer Workshop Dates: