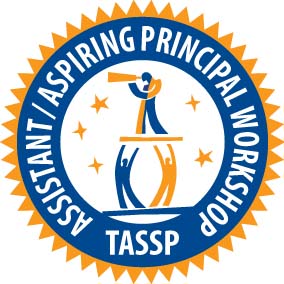 February 4 - 6, 2024 | Hilton Austin Airport
This program is for ALL GRADE-LEVEL assistant principals, elementary through secondary, 
and for teacher leaders looking to become campus administrators.
Participate in three days of dynamic and practical training as you learn from master practitioners and build professional learning relationships with TEXAS ASSISTANT PRINCIPALS; current and aspiring!

EARLY BIRD REGISTRATION FEE: $285 through January 19, 2024. After January 19 registration is $335.
The additional cost for the optional Documentation Training is $209. Training is with Zachary Hobbs from 9:00a - 12:45p. Includes Working Lunch for participants.
RESERVE A ROOM AT THE HILTON
HILTON AUSTIN AIRPORT HOTEL: TASSP Rate is $165 king (or 2 queen bed) per night.
---
FEATURING:
DOCUMENTATION TRAINING: (Additional fee for this training) With Zach Hobbs, TASB. This session is designed to train administrators on the legal framework within which documentation of all Texas public school employees takes place and to focus on specific steps required to document an employee's performance effectively. Registration for this session includes lunch and a copy of the latest edition of the Texas Documentation Handbook from ED311. If it's not written down, it didn't happen. An effective documentation process is crucial for improving employee performance and making informed personnel decisions. This interactive presentation will guide participants through the ED311 Texas Documentation Handbook: Appraisal, Nonrenewal, Termination. The training will focus on developing documentation to support appraisal, nonrenewal, and termination decisions.
LEGAL ISSUES FOR THE A.P. 2024: With Jim Walsh, The Law Dawg, Walsh Gallegos Treviño Kyle & Robinson P.C. This session will cover student discipline, special education, 504, liability and other concerns that are practical and relevant to AP's. This session will emphasize the practical and leave plenty of time for Q and A.
Excellent keynotes and breakout session speakers and trainings from experts in all areas of education including John Fessenden, Dr. Herb Cox, Dr. Courtney Gober, Joe Coleman, Todd Bloomer, Sean Cain and many more!
Exhibit Showcase with representatives who can deliver solutions to help schools improve student learning and achievement through their products and services.
---
FEATURED SPEAKERS FOR 2024:



• ZACHARY HOBBS -

 Zach Hobbs joined the TASB HR Services team in 2014. He supervises a team of consultants and provides HR consulting, including compensation plan development and staffing services, to districts throughout Texas. Prior to joining TASB, Zach was a Texas principal and teacher. He has also worked as an analyst for a national human resources consulting firm. Zach received his bachelor's degree from Austin College in Sherman, Texas. He has a master's degree from the University of Texas at Tyler, received a superintendent certificate through the Texas A&M University at Commerce, and is a SHRM Certified Professional.

 
• JIMMY CASAS - Jimmy served twenty-two years as a school leader. He is a best selling author, speaker, leadership coach, and a state and national award winning principal. Under Jimmy's leadership, Bettendorf High School was named one of the best high schools in the country three times by Newsweek and U.S. News and World Report. Jimmy was named the 2012 Iowa Principal of the Year and was runner-up NASSP 2013 National Principal of the Year. In 2014, Jimmy was invited to the White House to speak on the Future Ready Pledge. Finally, in 2015, he received the Bammy Award for the National Principal of the Year.
• DR. JENNY SEVERSON - Dr. Jenny is former teacher and school principal with 25 years of experience training school leaders and teachers across the globe. She has partnered with over 500 hundred schools in understanding the science behind what really improves achievement for all students. Whether she is delivering a live virtual training, high level coaching or speaking at a conference Jenny leaves educators feeling energized, confident, informed, and ready to take action to improve student learning.

Jenny Severson's training and coaching are of the highest quality, highly engaging, interactive, evidence-based, and carefully customized to meet the diverse needs of the leaders and learners you serve. She models every principle and strategy she teaches so educators can see and experience what it is like to be in a learning environment built on principles of effective teaching and learning.

KIM CAMPBELL - Kim Campbell is a self-proclaimed "proud middle school teacher," "daring Dean of Students," "crazy/creative consultant," and "lover of dogs and DQ ice cream"! 

Yes, she fulfills all those roles and more! Kim's direct and engaging style flavored with heart and humor (in person and in her books) make her a favorite with teachers, administrators, and students alike. 

She energizes educators as she builds on lessons learned and techniques developed in her middle-level teaching experiences. Kim translates theory into best practices with a treasure trove of personal experience; teachers use her tips and strategies to look forward to each new teaching day. 

Back home in her Minneapolis-area school district, Kim has been a middle level geography teacher for the past 20 years. She is the PBIS (Positive Behavior Intervention Specialist) Coordinator and Dean of Students for her school. She is also the founder and coordinator of Students on Academic Rise (SOAR), an after-school program created to address the achievement gap. Kim is coauthor of SOAR: A Handbook for Closing the Achievement Gap, and If You Can't Manage Them, You Can't Teach Them.
• JIM WALSH - Jim Walsh graduated from the University of Texas School of Law in 1975. In 1983, he was one of the three lawyers who founded the firm now known as Walsh Gallegos Treviño Kyle & Robinson P.C. From the beginning the focus of the firm was on serving public schools—helping the people who help the kids. In his career of over 40 years, Jim has provided training to all of the Education Service Centers in Texas, numerous statewide organizations, and hundreds of school districts. He is the principal author of The Educator's Guide to Texas School Law, which is used as a textbook in many higher education programs. He has also authored The Common Sense Guide to Special Education Law. He was the longtime author of the popular "Law Dawg" column in the Texas School Administrators' Legal Digest and currently produces a daily digital blog, The Law Dawg's Ed Daily. (www.edlawdawg.com).
And Many More - Register now to join us in this excellent training!
View Full Schedule/Sessions » TBA
SUNDAY, FEB. 4
REGISTRATION | 7:00a - 5:30p
OPTIONAL IN-DEPTH DOCUMENTATION TRAINING | 9:00a - 12:30p  |  With Zachary Hobbs (Additional Fee) Includes Working Lunch for participants
OPENING GENERAL SESSION | 1:00p - 2:00p with Jimmy Casas
BREAKOUT SESSION (Set 1) | 2:15p - 3:15p 
BREAKOUT SESSION (Set 2) | 3:30p - 4:30p
MONDAY, FEB. 5
REGISTRATION & EXHIBITS | 8:00a - 4:30p
GENERAL SESSION | 8:30a - 9:30a with Dr. Jenny Severson
BREAK | 9:30a - 9:45a
BREAKOUT SESSION (Set 3) | 9:45a - 10:45a
BREAKOUT SESSION (Set 4) | 11:00a - 12:00p
EXHIBITS/LUNCH BREAK | 12:00a - 1:30p (On your own)
BREAKOUT SESSION (Set 5) | 1:30p - 2:30p
BREAKOUT SESSION (Set 6) | 2:45p - 3:45p
GENERAL SESSION | 4:00p - 5:00p with Kim Campbell
TUESDAY, FEB. 6
BREAKFAST PROVIDED | 7:15a - 8:15a
CLOSING GENERAL SESSION  | 8:30a - 11:30a  with Jim Walsh: Legal Issues for the AP 2024