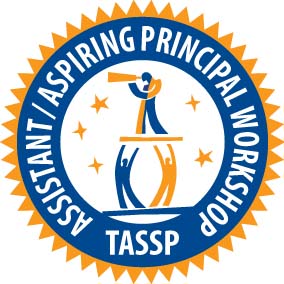 February 5 - 7, 2023 | Hilton Austin Airport
This program is for ALL GRADE-LEVEL assistant principals, elementary through secondary,
and for teacher leaders looking to become campus administrators.
Participate in three days of dynamic and practical training as you learn from master practitioners and build
professional learning relationships with TEXAS ASSISTANT PRINCIPALS; current and aspiring!
EARLY BIRD REGISTRATION FEE: $275 through January 20, 2023

After January 20 registration is $325. The additional cost for the optional Documentation Training is $199.
HILTON AUSTIN AIRPORT HOTEL: TASSP Rate is $163 king (or 2 queen bed) per night.
---
FEATURING:
DOCUMENTATION TRAINING: (Additional fee for this training) With Zach Hobbs, TASB. This session is designed to train administrators on the legal framework within which documentation of all Texas public school employees takes place and to focus on specific steps required to document an employee's performance effectively. Registration for this session includes lunch and a copy of the latest edition of the Texas Documentation Handbook from ED311. If it's not written down, it didn't happen. An effective documentation process is crucial for improving employee performance and making informed personnel decisions. This interactive presentation will guide participants through the ED311 Texas Documentation Handbook: Appraisal, Nonrenewal, Termination. The training will focus on developing documentation to support appraisal, nonrenewal, and termination decisions.
LEGAL ISSUES FOR THE A.P. 2023: With Jim Walsh, The Law Dawg, Walsh Gallegos Treviño Kyle & Robinson P.C. This session will cover student discipline, special education, 504, liability and other concerns that are practical and relevant to AP's. This session will emphasize the practical and leave plenty of time for Q and A.
Excellent Training from Lead Your School, Dr. Courtney Gober, Dr. Herb Cox, Houston Kraft of Character Strong, Kathleen Eckert, Cambridge Educational Services, I-Teach, Lead4ward, TX Retirement Council, and more!
Exhibit Showcase with representatives who can deliver solutions to help schools improve student learning and achievement through their products and services.
---
KEYNOTE SPEAKERS FOR 2023:



• ZACHARY HOBBS -

 Zach Hobbs joined the TASB HR Services team in 2014. He supervises a team of consultants and provides HR consulting, including compensation plan development and staffing services, to districts throughout Texas. Prior to joining TASB, Zach was a Texas principal and teacher. He has also worked as an analyst for a national human resources consulting firm. Zach received his bachelor's degree from Austin College in Sherman, Texas. He has a master's degree from the University of Texas at Tyler, received a superintendent certificate through the Texas A&M University at Commerce, and is a SHRM Certified Professional.





• KIM CAMPBELL - Kim Campbell crosses the continent energizing educational professionals as a dynamic presenter and self-proclaimed "Proud Middle School Teacher." Building on the lessons learned and techniques developed as a middle level social studies teacher since 1991, Kim is in national demand as a keynote speaker, workshop facilitator and consultant for the Association of Middle Level Educators, Staff Development for Educators, and the Jack Berckemeyer Consulting Group. At home in her Twin Cities, Minnesota metropolitan area school district, Kim augments her classroom role with a position as her school's Dean of Students. She has also served in various leadership and committee positions including team leader and a member of the Equity and Literacy Teams. Kim is founder and coordinator of a highly-successful after-school program called Students on Academic Rise (S.O.A.R.) developed to address the achievement gap. Among her honors are 2004 semi-finalist for Minnesota Teacher of the Year, 2009 Fox one of nine "Top Teachers" of the year and the 2012 Coleen Yatckoske Minnesota Middle Level Educator of the Year. Kim is the co-author of SOAR: A Handbook for Closing the Achievement Gap, a guide for replicating the success of her revolutionary after-school program for disadvantaged students, and author of If You Can't Manage Them, You Can't Teach Them. She is in the process of completing her third book. After twenty-nine years of teaching, Kim says that she still loves it. Learn Kim's tips and techniques to look forward to every day as she translates theory into best practices with a trove of personal experience. Kim's direct and engaging style flavored with heart and humor make her a favorite with teachers, administrators and students alike.

• DR. DEBBIE SILVER - Debbie is one of the most popular keynoters and in-service presenters in the United States and around the world. Audiences everywhere respond to Debbie's use of humor and sensitivity to remind them of how important teachers are in the lives of children. Through research-based theory, touching stories, and hilarious characterizations, she connects with the souls of all who are involved in education-students, teachers, administrators, parents, and families. Her mission is to uplift teachers in their mission and help them interact with students on deep levels. With 30 years spent as a teacher, staff development instructor, and university professor, Dr. Debbie Silver doesn't just know her way around the classroom-she is familiar with the challenges educators face at every level, from kindergarten to college! Debbie has authored and co-authored several books and other materials that have given invaluable help to teachers, administrators, parents, and families. These include the best-sellers Drumming to the Beat of Different Marchers: Finding the Rhythm for Differentiated Learning; Fall Down 7 Times, Get Up 8: Teaching Kids to Succeed; and Deliberate Optimism: Reclaiming the Joy in Education. When she's not working as an educational speaker and writer, Debbie enjoys spending time in Texas with her husband, Dr. Lawrence Silver, and with their five sons and their families in five different states.
• DR. JUSTIN RICHARDSON - Bringing years of district leadership experience, Justin Richardson, is passionate about engaging, challenging, and supporting educators to create something new and amazing! He believes our purpose as educators is to bring out the greatness in others. As the Chief Learning Officer for lead4ward, Justin provides direction on learning initiatives with a creative and innovative approach. His vast understanding of the learning process provides a platform for the lead4ward team to support leaders and teachers in what's best for students.

Prior to joining lead4ward, Justin served as Executive Director of Curriculum and Professional Development for Canyon ISD. In this role, he developed and led the implementation of Professional Learning Communities, curriculum alignment, assessment and data analysis processes, and intervention systems. He led Canyon ISD in the implementation of digital learning, Google Apps for Education, and development of an award-winning induction program for new teachers and mentors. In addition, Justin has served on the TEA state assessment item review committee, SBOE mathematics review committee, and many more.

• JIM WALSH - Jim Walsh graduated from the University of Texas School of Law in 1975. In 1983, he was one of the three lawyers who founded the firm now known as Walsh Gallegos Treviño Kyle & Robinson P.C. From the beginning the focus of the firm was on serving public schools—helping the people who help the kids. In his career of over 40 years, Jim has provided training to all of the Education Service Centers in Texas, numerous statewide organizations, and hundreds of school districts. He is the principal author of The Educator's Guide to Texas School Law, which is used as a textbook in many higher education programs. He has also authored The Common Sense Guide to Special Education Law. He was the longtime author of the popular "Law Dawg" column in the Texas School Administrators' Legal Digest and currently produces a daily digital blog, The Law Dawg's Ed Daily. (www.edlawdawg.com).
Register now to join us in this excellent training!
SUNDAY, FEB. 5
REGISTRATION | 7:00a - 4:30p
OPTIONAL IN-DEPTH DOCUMENTATION TRAINING | 9:00a - 12:45p  |  With Zachary Hobbs (Additional Fee) Includes Working Lunch for participants
BREAK | 12:45p - 1:00p
OPENING GENERAL SESSION | 1:00p - 2:00p  |  With Kim Campbell: We Will Survive
BREAK | 2:15p - 3:00p
2 BREAKOUT SESSIONS (Set 1) | 2:15p - 3:15p  &  (Set 2) | 3:30p - 4:30p
    Choose 2 sessions with: Lead Your School | Dr. Herb Cox | Dr. Courtney Gober | Kim Campbell
MONDAY, FEB. 6
REGISTRATION & EXHIBITS | 8:00a - 4:30p
BREAKFAST PROVIDED | 7:30a - 8:15a
GENERAL SESSION | 8:30a - 9:30a  |  With Debbie Silver: Deliberate Optimism in Challenging Times
BREAK | 9:30a - 9:55a
1 BREAKOUT SESSION (Set 3) | 10:00a - 11:00a
    Choose 1 session with: Lead Your School | Character Strong | Kathleen Eckert | Debbie Silver | Justin Richardson
EXHIBITS/LUNCH BREAK | 11:00a - 12:30p (On your own)
1 BREAKOUT SESSION (Set 4) | 12:30p - 1:30p (Repeat Set 3)
1 BREAKOUT SESSION (Set 5) | 1:45p - 2:45p
    Choose 1 session with: Cambridge | Lead Your School | Kathleen Eckert | iTeach | Lead4ward
BREAK | 2:45p - 3:00p
GENERAL SESSION | 3:00p - 4:15p  |  With Justin Richardson
TUESDAY, FEB. 7
BREAKFAST PROVIDED | 7:15a - 8:15a
BREAKOUT SESSION (Set 6) | 8:15a - 9:00a  &  (Set 7) | 9:15a - 10:00a
    Choose 2 sessions with: Lead Your School | TX Retirement Council | UT Meadows | Lowman Education | Lead4ward
BREAK  |  10:00a - 10:15a
CLOSING GENERAL SESSION  | 10:15a - 11:30a  |  With Jim Walsh: Legal Issues for the AP 2023