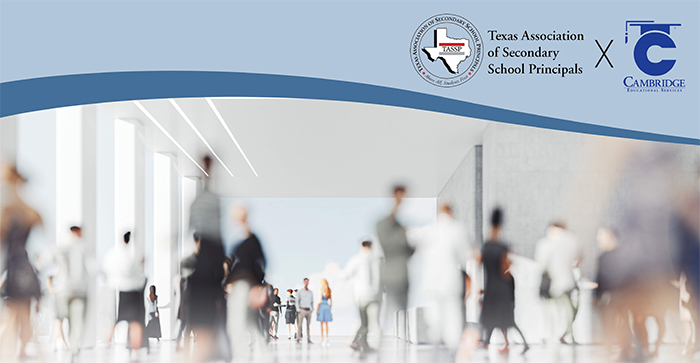 TASSP and Cambridge Educational Services Present
FREE WEBINAR
Texas Learning Leaps and Accelerated Skills Recovery
October 27th, 2021  |  9:00 am  
After 18 months of Covid, no one is quite sure what students have learned and what they do not know. TASSP presents this 60-minute webinar to help you re-establish teacher agency (the connection between instruction and student impact) and to plan your learning leaps and accelerated student learning. Our panel of experts will:
Illustrate how to accelerate students who may have been promoted to the next grade without a mastery of prior grade level skills.
Plan a simple 45-minute Academic Skills Recovery Assessment in order to meet your students at their exact proficiencies level in math, English, reading, and/or science.
Re-establish teacher confidence that what they do in the classroom has a direct impact on their students' learning.
Show the best way to springboard your students to success with a targeted review of core skills.  
Provide a blueprint for increasing classroom engagement, focusing on a subset of High School and Middle School core skills.
Highlight a system of multi-year benchmarks to measure progress.
Charlotte Rainey Parham
Dr. Parham served as an elementary teacher, gifted specialist, principal, and district administrator. She is a national consultant and author who currently serves as an Assistant Professor of Leadership Studies at the University of Central Arkansas.
Carol Ford
Carol Ford received her BS in Communications at the University of Central Arkansas and her Masters in the Art of Teaching at William Carey University. She has been a classroom educator at Collins High School in Collins, MS for ten years and is a passionate advocate for children.
Marilynn Kulieke
Dr. Kulieke earned her MA in Education and Ph.D. in Educational Psychology at Northwestern University and her BA in Psychology at the University of Illinois. She has been the Executive Director of the Pathways Learning Group for the past ten years and the Vice President of the Gains Education Group for the past 15 years.
David Waldherr
Dr. Waldherr founded Cambridge in 1990 with the mission of helping all students, regardless of income level or previous achievement, build college readiness skills, increase test scores, and gain college admission and scholarships. Cambridge materials are used by more than 2,000 schools, served over 7,000,000 students and through its Grant Award Program has given away over $7,000,000 to deserving youth programs.